GENERAL ALARM DISTRIBUTION PANELS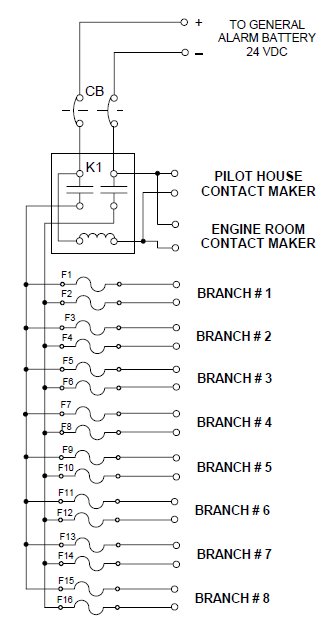 General alarm distribution panels are required on most vessels over 100 Gt. A maximum of five bells are allowed on each branch circuit
NEMA 4 enclosure

Enclosure capable of being locked

Main disconnect built-in




(30 amp 2 pole circuit breaker)

Branch fuses are AGC 3 amp

Non type fuses are optional
Number of Branch Circuits

DC Voltage – if relay is required

Cable size if larger than D16

Branch fuse type and ratings if other than AGC-3
All panels comply with USCG 46 CFR, Subpart 113.25.
We can provide contactors for any load requirements.
All branch circuits are fused and labeled as per drawings provided.
Panels are built with AGC or non type fuses. Be sure to SPECIFY!
General Alarm Panels and other DC Distribution Panels are custom built at J Box, Inc. Please contact us about your specific requirements.